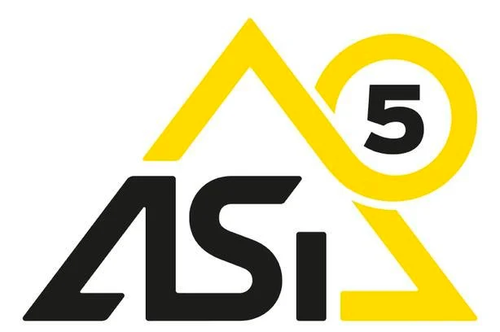 ASi-5: INNOVATION INTO AUTOMATION
Automation is becoming increasingly faster, more complex, more digital. And, ASi-5, the standardized system for the lower field level, makes automation easy, safe, fast, and efficient.
Therefore, ASi-5 is the future-oriented innovation for your automation.
Industry 4.0 and the Internet of Things continue to advance digitalization. It is crucial for the perfect automation communication system to exceed current as well as future requirements, creating the most cost-effective solution.
That is why Sitomatic has taken up the challenge and started working with the powerful standard of AS-Interface and picked up the improvements of ASi-5, which perfectly meets these requirements by connecting actuators and sensors to the overarching control system and the cloud .
ASi-5 uses a single cable to establish a network using a simple and flexible installation technique.The single two-conductor cable transmits data and energy simultaneously.
Guide your communication into the digital age – and transport your automation system to where it belongs: on the level of ideal cost-effectiveness.
Why ASi-5?
The main reason for the further development of ASi-3 to ASi-5 is the demand to be able to send more data. With ASi-5, larger amounts of data can now be transferred at a higher speed.

Intelligent sensors and actuators are responsible for an increasing number of control functions in systems.

ASi-5 is the evolution of the proven AS-Interface standard. ASi-5 offers all the benefits that ASi3 already has with the addition of a high data rate.

ASi-5 offers a processing data size of 16 bits to 32 bytes per unit and short cycle times - up to 384 digital inputs and 384 digital outputs in just 1.27 ms - making it possible to transport more and more data, where it can yield valuable information.

The connection technology of ASi-5, such as connectors and wires, remains the same as with ASi-3, only the number of units that can be connected is increased from a maximum of 62 to 96 units per master. In addition, the user benefits from improved diagnostics.

ASi-5 still has the simple wiring diagram with only one cable for both power and data, the possibility to connect units at any desired location and the high flexibility by using application specific components.
What is IO-Link?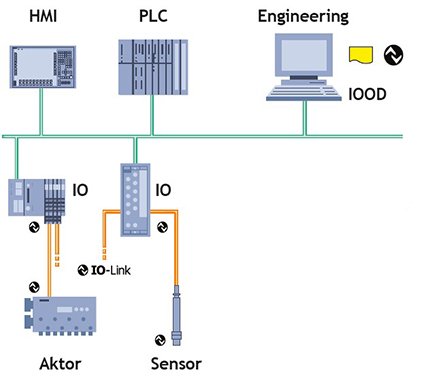 IO-Link is the first standardized IO technology worldwide (IEC 61131-9) for the communication with sensors and also actuators. The powerful point-to-point communication is based on the long established 3-wire sensor and actuator connection without additional requirements regarding the cable material. So, IO-Link is no fieldbus but the further development of the existing, tried-and-tested connection technology for sensors and actuators.
The system architecture could look as follows:
As mentioned above, IO-link is not a fieldbus like ASi. It is a 3-wire serial communication system. The communication is realized with standard M12, M8 and M5 connectors (4- and/or 5-pole connection).
Below are some technical properties of the system:
Three communication speeds: 4.8 kBaud, 38.4 kBaud and 230.4 kBaud;
Standard M12, M8 and M5 connectors (4- or 5-pin);
Maximum cable length between master and device: 20m;
IODD file required for device control (IO-link Device Description);
Current values and settings can be up- and downloaded from and to the Device;
Reduced wiring compared to Direct IO communication;
More information can be communicated between Master and Device;
More control and settings options for the Device compared to direct IO.
ASi-5 vs IO-Link:
AS-Interface and IO-Link are not competitors but work together very well and combine the advantages of their technologies. And in the era of Industry 4.0, this has become even more important.

The smart factories of tomorrow will present new challenges for sensors and actuators. An ever-growing number of intelligent sensors and controls will also be used in modern production facilities.
For example, threshold values can be stored in a device and corresponding information can be sent if these limits are exceeded. Even changes to the sensor's functions are possible to make.
An important element in this context: IO-Link is not a bus system, although masters are also a common component to which several devices can be connected. But is it a point-to-point connection used in an automation environment typically below the I/O level to individually connect field devices.

For ASi's cabling system, IO-Link can rather act as an ideal feeder, in which case the two systems work perfectly together. This also has to do with the fact that even in the most modern machines not all parts need to be intelligent. Digital I/O data is therefore sufficient for most sensors: a smart proximity switch, for example, would most likely be overqualified in many positions.
A major advantage of the link with AS-Interface is that all data can be collected – whether it comes from intelligent sensors or from their less smart counterparts.
This means that the user doesn't have to waste time thinking about whether they ever want to upgrade to an intelligent sensor in one location or another. And across the board, it benefits from the advantages of AS-Interface: from the typical simple ASi installation with only one cable for data and power, to the freely selectable topology and low wiring voltage of the communication system, which means that all inputs and outputs are available exactly where they are needed.
In addition to standard sensors/actuators and safety components, IO-Link devices can also be easily integrated into an ASi network.
Contact us and we will gladly take on a new challenge.

Detailed information is available on request.
Call us:+31 (0)594-516670 or fill in the Contact form.